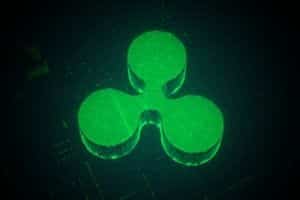 With the cryptocurrency industry finding stability, Ripple is witnessing immense growth. The cryptocurrency experienced a 160% growth since last July and recently reached the 1.22 dollars mark.
Ripple grew by 0.91% last Saturday, reversing a 3.57% decline from the weekend. It ended the week at 1.22737 dollars, around 4.55% down its earlier price. The week started well for the cryptocurrency as it grew a little and reached 1.25708 dollars before it hit reverse.
XRP failed to cross the 1.2645 dollars resistance level, sliding into an intraday low of 1.18000 dollars. Its first major drop came at the 1.18 dollars support level on Saturday.
Currently, the cryptocurrency is valued at 1.2824 dollars, showing a 2.47% growth. Its market cap is around 58.2 billion dollars, with the 24-hour volume trading at 3.3 billion dollars. 
The cryptocurrency started the day falling to 1.2275 dollars but quickly picking up the pace. It quickly passed through the early resistance and support levels. However, XRP must avoid the 1.2215 dollars pivot to maintain the 1.2630 dollars resistance level.
If the cryptocurrency experiences another breakout, it can test the 1.30 dollars resistance level before a pullback. But, instead, Ripple sees its second major resistance level at 1.2986 dollars.
However, failing to rally through the 1.2215 dollars will bring it down to a 1.1859 dollar support level. Therefore, Ripple is expected to steer off the 0.15 dollars sublevels unless there is an extended sell-off. In the case of such scenarios, XRP will find the second support level at 1.1444 dollars.